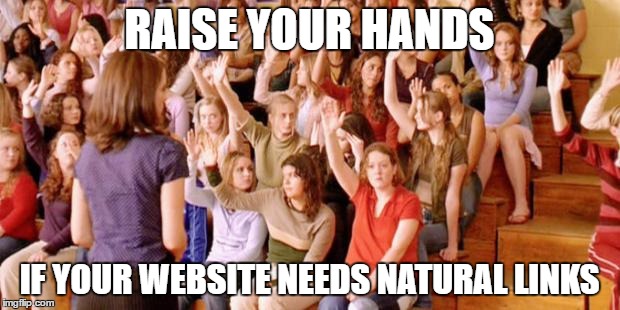 Wow! Almost everyone needs natural links.
Good!
We all know that links are the currency of the web. It is one of the factors that Google uses to determine the search engine ranking of websites.
According to Moz, 99.2% of search results that appears in the top 50 results have at least one external link pointing to the website.
This implies that the more the links to your website, the higher the search engine ranking.
But wait;
What are the benefits of higher search engine ranking?
    It brings tremendous traffic to your website
According to a recent research study by SocialTimes, the first result that shows up in search result pages will likely get 17% more clicks than every other result.
Buttressing this point, ImForza stats revealed that 70% of the links users click on is organic, and that three-fourths of search engine users do not move past the first page of results.
That means when Google ranks your website on its first page, you get most of the web users onto your website.
That is not all.
It opens up a lot of avenues from users all around the web to find your website and what you have to offer. These people are more likely to convert to leads than the visitors from the search engines.
This is because they came from websites that are related to your business. This makes it easy for you to turn them into paying customers.
So, what will the increase in website visitors do for your business?
       It brings in more customers and sales.
According to research now, about 9 in 10 consumers (84%) make purchases after reading about a product or service on a blog.
Also, among the consumers aged 18-34, blogs ranked as the most important source of information to make buying decisions.
Despite the many benefits link building offers, Google does not want you to buy links or trade it with other blogs. It wants to you to earn them. In order words, it advocates natural links.
According to Matt Cutts, the purpose of SEO is not to make links and anchor text look natural because you can't do that. Instead, write from your heart and focus on helping users find a better answer. That way, everything will naturally fall into place.
Now, that you know the benefits of building natural links to your website. The question is:
What are the ways you can build natural links to your website?
There are several ways you can build natural links, such as using Guest posts, Blog post/content, infographics, creating link bait, videos, sponsorships, and content.
However, we will be learning how to use content to build natural links. They will keep generating links even when you stop promoting them.
Now, there are several types of content, but few of them can actually help you to build links. We will take a look at five of them.
5 Types of content that generates natural links
Content is the essence of every decent link building strategy. It gives your blog the important taste it deserves.
Content that generates natural links hook readers.
The fact is, people don't share what they don't read. They link to posts that connect with them on a personal level. They will share it with other people so that they can benefit also.
This type of content is not the popular ones you see all over the internet. If you want your content to generate a considerable amount of natural links, don't tell people something they already know.
For instance, you create a post on "the benefits of taking water". Everyone and their grandmother knows that you have to drink water to live. You need to create content that will add value to readers.
Content that generates natural links is in-depth and high quality. According to SocialmediaToday, 70% of Kissmetric's traffic is from in-depth original content that ranks high in the search engines top result.
So, what type of content will hook your readers and generate natural links for your website?
1.   Insanely Long List posts
List posts are popular all around the web. Infact there are websites dedicated to it, such as listverse.com. Lists are known for their traffic generating ability.
According to a research carried out by Okdork and Buzzsumo, list post gets the most shares after infographic.

Lists are great because they help your readers to navigate through your content easily.
However, list posts that attract links are ridiculously long. They are skyscraper kind of list post.
Check out this example from Carol Tice website:
The article has generated up to 1,856 links so far, it is still generating links. Check out the links below:
Below are great ideas of list posts you can create for your website:
List of best and free paid tools in your niche
List of ideas and resources
Top influencers in your niche
Best books for a specific thing in your niche
Popular mistakes in your niche
2.   How-to posts
How – to post help in breaking down complex issues into consumable bits. It educates your visitors and gives them value for their time.
A lot of people are looking for ways to do things they have never done before. They rely on search engines to give them such information. That is where your content comes in.
There are lots of how-to blog posts littering the internet today. You must ensure that yours is standing out. You can only achieve this if you teach people how to do things differently from the ways they are used to:
Popular How-to-posts can be on different topics, such as:
How-to post for beginners
How-to for advanced users
How-to checklist
How-to do something over a long period of time
How-to choose the best product/service
A good example is an article from Authoritynutrition.com. How to lose weight Fast: 3 simple steps, based on science.
The content generated 2,557 links as shown below:
3.   Ultimate Guides:
Ultimate guides are different from How-to posts. They are longer and all-encompassing. They are also popular on the internet today. You can see ultimate guides in virtually all topics online.
An ultimate guide that will generate natural links should solve common problems in your niche. That is when it will be useful for your readers. This type of content will help to position you as an expert in your niche within a short period of time.
A good example of an ultimate guide that generated and is still generating links is the "beginners guide to SEO" by MOZ.
It generated a total of 15,778 links as can be seen below:
4.   Case studies
Case studies show your readers how you take a certain approach and achieved a certain result. You can also leverage on someone's result. Case studies have the capacities to drive traffic and links.
They show your expertise in your niche. Numerous examples of case studies that generate links abound on the internet such as this one from Brian Dean:
The content generated 922 links as seen below:
5.   Visual assets 
Visual assets such as Images, diagrams, infographics etc., are very easy to link to.
For example, when you create an infographic and publish it on your website and other websites that allow infographic submission, whenever anyone shares it on their website, you get a link back to your website.
A great example here is an infographic on Kissmetrics – color psychology.
The infographic generated 685 links as seen below;
Conclusion:
Above are the five types of content that generate natural links. Having them on your website will increase your backlinks, search engine rankings, traffic and customers What are you waiting for, start creating them now!
What other type of content generates natural links? Let's discuss in the comment section below.